Jurassic World: Dominion Dominates Fandom Wikis - The Loop
Play Sound
"Sister, Wife" is the sixth episode in Season 1 of Duncanville.
Plot
To celebrate their anniversary, Jack and Annie rekindle the passion of their youth by visiting a 1980s-themed club, before realizing that their maturity might not be that boring after all. Meanwhile, Jing makes Duncan "marry her," but their make-believe quickly becomes complicated by real marital problems.
Full Story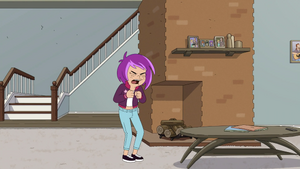 Jack and Annie decide to spend their anniversary by shopping at the home improvement store and take Kimberly with them, though they continuously fail to remember that she is with them. Duncan and Jing play at home, but when the latter decides to "get married", Duncan finds himself going through with it, complete with Bex serving as the minister. The kids tell Jack and Annie that they are boring and they decide to prove them wrong by going out.
After many failed excursions, they end up at an 80's themed bar, but Annie gets mad at Jack when he refuses to punch a guy that was hitting on her. Meanwhile, Jing and Duncan go through the woes of marriage with the former taking it way too seriously and Kimberly tries to seek attention. Eventually, Kimberly tells everyone to get over their relationship issues. Duncan forgives Jing and she apologizes for forcing marriage on him as she is too young. Jack and Annie go back to the bar with the former getting into a fight and afterwards, the two have sex in their car.
Notes/Trivia
ALF from the TV series of the same name makes an appearance in this episode, voiced by his original actor.
The title is a play on the term "sister wives".
References
External Links